June, 2010
now browsing by month
Back in summer 2006, I went from no phone to (then) state-of-the-art Sprint PPC-6700 running Windows Mobile 5.0. It was awesome back in the day with it's Pocket Outlook, IE, Word, and any app you could load on it. With MobiPocket and Microsoft Reader, I could load up on several hundred books for reading anyhwere. I cross-compiled a BASIC interperter and could even run some scripts on it (alas I was not able to get gcc to run on it). However, I discovered the best thing: my $15/mo data plan allowed tethering! I could hook it up to my laptop via USB and get internet – as a bonus it was unlimited and nearly everywhere. Of course, time does what time does best: slowly reduce every electronic gadget to a uselessly outdated mere curiosity. The iPhone, Droid, EVO phones all sport slimmer, sexier, much more capable features than my sad PPC-6700. But as a poor college boy, I have been resisting updating because when I moved to Pittsburgh to attend CMU, I didn't shell out for cable + internet. Instead, I used my tethered phone as my primary internet in my apartment. I can't watch SD or HD movies like Hulu or Netflix, but YouTube works pretty well and it lets me read papers, check email, listen to Pandora, and generally surf the Internet.
But the allure of the sexy new phones, especially the EVO with it's touted tethering capabilities and 4G (which Pittsburgh is getting this year), is so scintillating! So I did some analysis. Below is a graph of my usage of the PPC-6700 data and voice usage over the past year. Data usage is for both tethering and smartphone usage; voice is only daytime minutes.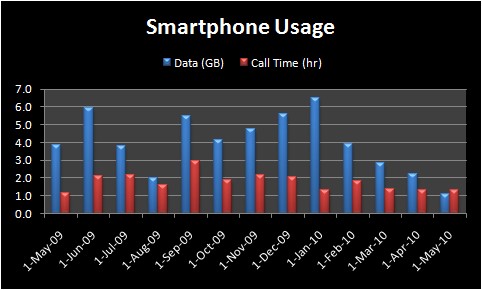 The amazing thing to note is that I've been averaging 4 GB a month of tethered internet with a peak of 6.5 GB. That pretty much rules out the iPhone for me. For the same $15 a month with AT&T, I can get a paltry 200 MB. Their highest data plan for $25 a month caps the data usage at 2GB, which would only cover two months of my past year – which incidentally coincides with my international traveling where I wasn't using my phone for weeks at a time. So how about EVO? Sprint is still unlimited data, but I have to pay $70 (well technically $69.99, but let's round stuff off here) for 450 minutes + unlimited data. To tether, it's another $30. So $100 a month total. That's a lot of money, more than double what I'm currently paying ($30 for 200 minutes call time + $15 for unlimited tethering). And what I do get? 250 minutes I don't use anyhow, faster internet speeds, and a much nicer phone with a poorer battery life. The question I ask myself is: Can I justify $100 upgrade fee + 12*$50 = $600 = $700 a year extra on a new phone like the EVO? So far…the answer has been no.